Die Talkshow "Inside the Actors Studio" gilt in den USA als Kultsendung und wird in über 125 Ländern erfolgreich ausgestrahlt. Moderator James Lipton entlockt dabei bekannten Schauspielern, Regisseuren oder Autoren kleine und große Geheimnisse über ihre Karriere. Besonders beeindruckend ist die Liste der Gäste, die Lipton bisher in seiner Show begrüßen konnte. Unter den mehr als 200 Prominenten waren allein 74 Oscar-Gewinner. So begrüßte James Lipton beispielsweise Brad Pitt, Angelina Jolie, Kevin Spacey, Jim Carrey und Robin Williams.
"Das Interview - Cast of Girls" als Deutschlandpremiere am Mittwoch, den 26. Juni 2019 um 22:05 Uhr bei RTL Living!
James Lipton begrüßt in einer neuen Folge seiner Talkshow gleich vier Gäste: die Hauptdarstellerinnen der amerikanischen Serie "Girls". Mit dabei ist Lena Dunham, von der nicht nur die Idee zu der preisgekrönten Serie stammt, sondern die sie als Produzentin und Schauspielerin maßgeblich geprägt hat. Außerdem stellen sich die Schauspielerinnen Allison Williams, Jemima Kirke und Zosia Mamet James Liptons berühmten Fragen. Die Serie "Girls" ist ein weltweites Phänomen, seit die erste Staffel im Jahr 2012 ausgestrahlt wurde. Das Leben und vor allem Gefühlsleben der vier New Yorker Freundinnen Hanna Horvath, Marnie Michaels, Jessa Johansson und Shoshanna Shapiro, sorgte weltweit für Diskussionsstoff. Grund genug für James Lipton, hinter die Kulissen der berühmten Serie zu blicken...
Und noch eine Deutschlandpremiere: "Das Interview - Scarlett Johansson" am Mittwoch, den 10. Juli 2019 um 22:10 Uhr bei RTL Living!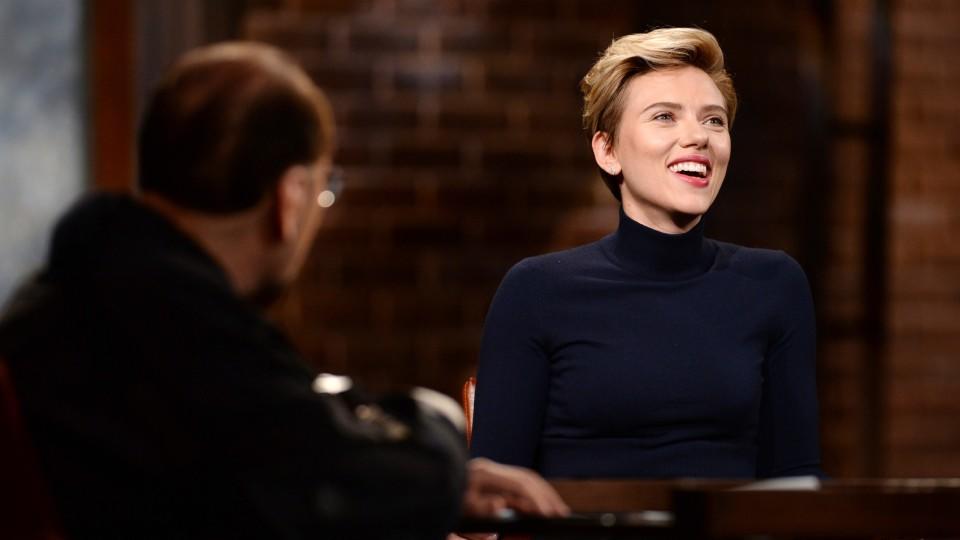 Sie gilt als eine der bestbezahltesten Schauspielerinnen überhaupt und zählt zu den Weltstars der Szene: Scarlett Johansson stellt sich am 10. Juli den Fragen von Moderator James Lipton und zeigt überraschende Einblicke. Die amerikanisch-dänische Darstellerin spricht über ihre ersten Berührungspunkte mit der Schauspielerei, wie es war, in so jungen Jahren mit Berühmtheiten wie Woody Allen zusammen zu arbeiten und wie wichtig es für sie gewesen ist, ihre eigene Stimme zu entwickeln. Ihren ersten Film drehte sie mit neun Jahren, im Alter von 18 Jahren gelang ihr mit "Lost in Translation" der große Durchbruch. Scarlett Johanssons Bandbreite ist groß und geht von Literaturverfilmungen bis hin zu ihrer aktuellen Rolle in den Marvel-Filmen. Vor welche Herausforderungen sie dabei gestellt wurde und wie sie sich auf ihre Rollen vorbereitet, das alles erzählt die Schauspielerin und Sängerin James Lipton in der Deutschlandpremiere der US-amerikanischen Talkshow.
Infos zur Show
Die bereits 17mal für den Emmy nominierte und einmal ausgezeichnete Talkshow lebt von Moderator James Lipton, der seine Gespräche extrem gründlich vorbereitet und mit vorurteilsfreier Neugier führt. Mit ihren zahlreichen Episoden zählt die Sendung zu dem am längsten ausgestrahlten Format des Kabelsenders Bravo TV. "Das Interview" basiert auf drei Elementen, die der Sendung ihre Struktur verleihen: James Lipton beginnt mit einer chronologischen Befragung zum Lebenslauf und stellt anschließend immer die gleichen zehn Fragen, die ursprünglich von der französischen TV-Legende Bernard Pivot stammen. Abschließend folgt eine offene Fragerunde.

Die zehn Fragen:
1. Was ist Ihr Lieblingswort?
2. Was ist Ihr am wenigsten gemochtes Wort?
3. Was macht Sie an?
4. Was macht Sie überhaupt nicht an?
5. Welches Geräusch oder welche Stimme lieben Sie?
6. Welches Geräusch oder welche Stimme hassen Sie?
7. Was ist Ihr Lieblingsschimpfwort?
8. Welchem Beruf, außer Ihrem eigenen, würden Sie gerne nachgehen?
9. Welchem Beruf würden Sie nicht gerne nachgehen?
10. Wenn der Himmel existiert, was würden Sie von Gott gerne hören, wenn Sie an der Himmelspforte ankommen?
Die Gäste
| Staffel | Gäste |
| --- | --- |
| Staffel 1 | Alec Baldwin, Paul Newman, Stephen Sondheim, Sidney Lumet, Shelley Winters, Sally Field, Dennis Hopper, Arthur Miller, Arthur Penn, Estelle Parsons, Neil Simon, Sydney Pollack, Mary Stuart Masterson, Olympia Dukakis, William Goldman |
| Staffel 2 | Faye Dunaway, Matthew Broderick, Glenn Close, Holly Hunter, Jessica Lange, Carol Burnett, Gene Wilder, Christopher Walken, Martin Landau, Ellen Burstyn |
| Staffel 3 | Anjelica Huston, Christopher Reeve, Lee Grant, Tommy Lee Jones, Matt Dillon, Norman Jewison, Mike Nichols, Mark Rydell, Julia Roberts, Billy Crystal, Meg Ryan, Anthony Quinn, Nathan Lane, Willem Dafoe, Harvey Keitel |
| Staffel 4 | Shirley MacLaine, Eli Wallach und Anne Jackson, Anthony Hopkins, Danny Glover, Lauren Bacall, Whoopi Goldberg, Jack Lemmon, Meryl Streep, Martin Short, Susan Sarandon |
| Staffel 5 | Sharon Stone, Robert De Niro, Laurence Fishburne, Sean Penn, Stanley Donen, Steven Spielberg, Kathy Bates, Gary Sinise, Ron Howard, John Hurt, Donald Sutherland, Kim Basinger, Jennifer Jason Leigh, Peter Falk, Jerry Lewis, Mary Tyler Moore, Billy Joel, Tim Robbins, Tom Hanks |
| Staffel 6 | Sir Michael Caine, Ellen Barkin, Sylvester Stallone, Kevin Spacey, Geena Davis, James Woods, Andy Garcia, Philip Seymour Hoffman, Alan Alda, Harrison Ford, Richard Dreyfuss, James Caan, Sigourney Weaver, Val Kilmer, Bernadette Peters |
| Staffel 7 | Ben Affleck, Ed Harris, Ned Beatty, Mike Myers, Spike Lee, Michael Douglas, Gabriel Byrne, Gwyneth Paltrow, Helen Hunt, Francis Ford Coppola, Robin Williams, Melanie Griffith, Antonio Banderas, Roseanne, Ben Stiller, Burt Reynolds, Gene Hackman, Kevin Kline |
| Staffel 8 | Kevin Costner, Will Smith, Stockard Channing, Bruce Willis, Debra Winger, Sarah Jessica Parker, Sissy Spacek, Dennis Quaid, Ethan Hawke, Sir Ben Kingsley, Richard Gere, Hugh Grant, Samuel L. Jackson, Benicio Del Toro, Vanessa Redgrave, Billy Bob Thornton, Johnny Depp |
| Staffel 9 | Juliette Binoche, Pierce Brosnan, Sir Ian McKellen, Martin Scorsese, Julianne Moore, Edward Norton, Cast von "Die Simpsons", Nicolas Cage, Renee Zellweger, John Travolta, Jeremy Irons, Joanne Woodward, Drew Barrymore, Jeanne Moreau, Jeff Bridges, Martin Sheen, John Goodman |
| Staffel 10 | Clint Eastwood, Cast von "Will & Grace", cate Blanchett, Jude Law, Naomi Watts, Russell Crowe, Tom Cruise, Charlize Theron, Diane Lane, Jay Leno, Hugh Jackman, Kate Winslet, Barbra Steisand, Bette Midler |
| Staffel 11 | Jennifer Lopez, James Gandolfini, William H. Macy, George Carlin,Jennifer Connelly, Mark Wahlberg, Natalie Portman, jamie Foxx, Salma Hayek, Morgan Freeman, Cameron Diaz, Kiefer Sutherland, Robert Redford, Colin Farrell, Val Kilmer, Owen Wilson, David Duchovny, Jane Fonda, Angelina Jolie, Cast von "Everybody Loves Raymond", Jodie Foster, Elton John, Rosie O'Donnell, Michael J. Fox und Tracy Pollan |
| Staffel 12 | Cast von "The Producers", Barbara Walters, Queen Latifah, Ralph Fiennes, Martin Lawrence, Liza Minnelli, Dave Chappelle, Cast von "Law & Order", Tom Hanks, Don Cheadle, Tim Allen, Dustin Hoffman, Robert Downey Jr., Hugh Laurie, Teri Hatcher, Al Pacino |
| Staffel 13 | Forest Whitaker, Eddie Murphy, Matt Damon, Diana Ross, Chris Rock, Mark Ruffalo, Julia Louis-Dreyfus, Kyra Sedgwick, Michelle Pfeiffer, Charlie Sheen, Billy Crystal, Anthony Hopkins, Alec Baldwin, Halle Berry, John Cusack |
| Staffel 14 | Sarah Jessica Parker, Mike Myers, Brooke Shields |
| Staffel 15 | Christian Slater, Goldie Hawn, James Lipton, Daniel Radcliffe, Josh Brolin, Laura Linney, Ricky Gervais, Conan O'Brien, Anthony LaPaglia, Denis Leary, Danny DeVito, Judd Apatow, Mickey Rourke, Jason Bateman, Cast von "Family Guy", Amy Poehler |
| Staffel 16 | Hilary Swank, Jon Bon Jovi, Kate Hudson, James Cameron, P. Diddy, Betty White |
| Staffel 17 | James Franco, Jim Carrey, Colin Firth, Bradley Cooper, Cast von "Modern Family", Jennifer Aniston |
| Staffel 18 | George Clooney, Brad Pitt, Cast von "Glee", Cast von "Mad Men" |
| Staffel 19 | Liam neeson, Tina Fey, Jake Gyllenhaal, Hugh Jackman, Cast von "Arrested Development", Bruce und Laura Dern, Amy Adams, Matthew McConaughey |
| Staffel 20 | Cast von "How I Met Your Mother", Robin Williams, Mariska Hargitay, Sting, Neil Patrick Harris, Jim Parsons |
| Staffel 21 | Sarah Silverman, Bryan Cranston, Steve Carell, Jeff Daniels, Cast von "The Walking Dead", Christopher Meloni |
| Staffel 22 | Jessica Chastain, Viola Davis, Cuba Gooding Jr., Cast von "Girls", Scarlett Johansson |